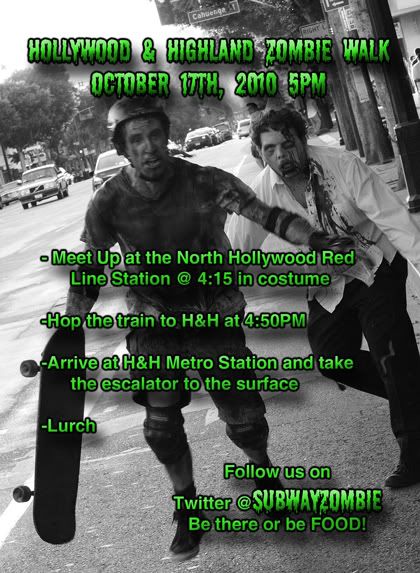 Had a great time with
last year's lurch.
I'm interested in seeing if we can get an even bigger turnout this year. So, same setup as last year. We'll be gathering at the North Hollywood Red Line station at 4:15pm on Sunday October 17th, 2010, for an underground assault on Hollywood and Highland. We'll break through to the surface at 5:00pm in Hollywood.
UPDATE: According to our facebook invite we've broken 500 attendees this morning. We've got more than 600 "Maybes" listed. I'm not sure if one train would be able to take us all in one go. In light of this, I'd like to mention that if it's easier for you to get to Hollywood and Highland by northbound train on the Red Line, then do so. But I want to stress that we all get to the H&H station by 5pm so we can all hit the surface at the same time.
Follow us on twitter @
http://twitter.com/SubwayZombie
Please share the
facebook event
.
I'll update this original post as more details become available.